Overview
proRM Invoicing Manager App allows you to create an invoice as soon as you approve bookings or other kinds of entries. The application shows only those items, which were checked and agreed by you. This you have a possibility to import all approved bookings as well as all performances and billing items. There are also several possibilities to make final changes before the information passes to the final version of the invoice. This allows you to make sure that the final invoice is absolutely correct.
Due to seamless integration between proRM and Microsoft Dynamics CRM the invoicing process is very clear and transparent. All changes, which were made within the CRM, are reflected in proRM Invoicing Manager App and vice versa. As a result you receive a completely integrated invoice. It is possible to calculate all kinds of contracts including those with fixed pricing. The process of invoicing is divided into the following phases: Draft, Approved, Sent, Booked, Paid and Cancelled.
Please make sure that you have the security role 'RM - Invoicing'.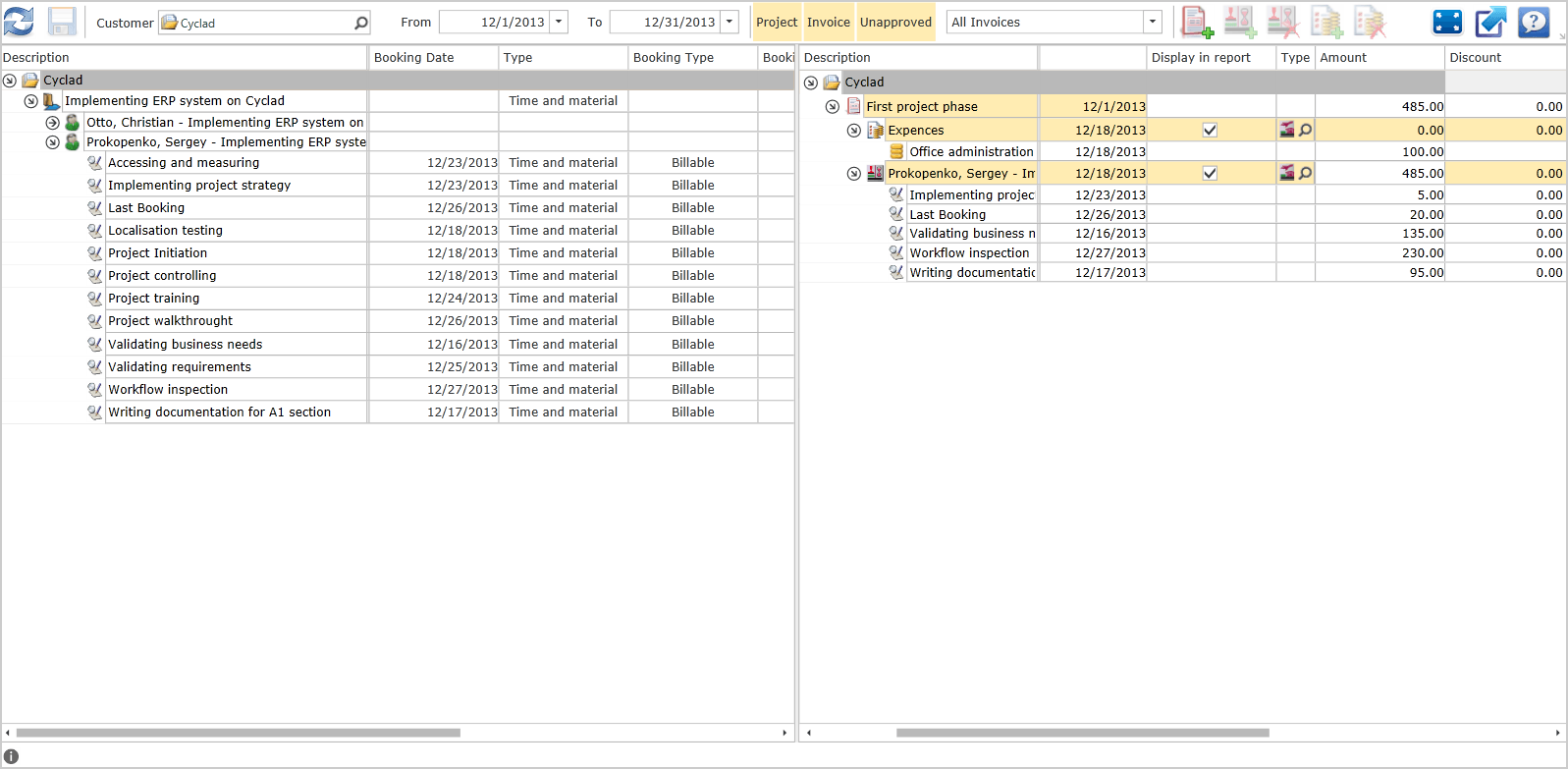 How to Use proRM Invoicing Manager App
In order to start using the application, first select a customer to whom an invoice is to be sent (Customer Field) and a period for bookings and expenses to be added to invoice (From and To fields). After values above are set, click Refresh in order to apply selected conditions.
Application Views
There are several views available for user within the application:
Project
Project View shows a grid with the following fields:
| | |
| --- | --- |
| Description  | shows a project tree structure of the following view: |
| | Customer. |
| | Project. |
| | Project Resources. |
| | Bookings and Expenses. |
| Booking Date  | shows dates for bookings and expenses. |
| Type  |  displays a project type. |
| Booking Type  | displays a type of booking / expenses. |
| Booking State | displays a status of booking. |
| Amount | shows a booking amount based on resource rate and number of booked hours OR expense amount. |
Invoice
Invoice View shows a grid with the following fields:
| | |
| --- | --- |
| Description |  shows a tree of the following items: |
| | Customer. |
| | Invoice. |
| | Service Item / Clearing item. |
| | Bookings / Expenses. |
| Booking Date  |  displays the date of bookings / expenses / clearing items / service items. |
| Display in Report  |  sets a checkbox that means a visibility of this item in a report. |
| Type  |  shows invoice item type. |
| Amount  |  shows a sum for every tree item. |
| Discount  | shows where a discount for current invoice should be entered. |
| Tax Rate  |  displays a tax rate for a clearing item or a service item. |
| Total Amount  |  displays a final invoice amount including taxes and discounts. |
| Invoice State |  shows a status of invoice. |
Unapproved
This view hides / shows unapproved bookings and expenses for Project View.
Create an Invoice
You can create an invoice using Create Invoice button. In order to complete creating you should set the following parameters:
| | |
| --- | --- |
| Name  | It is a mandatory field. |
| Customer  | It is predefined with a value that user selected for a top menu filter. |
| Price list |  that can be predefined with a value that is set for current customer. |
| Currency  | can also be predefined as a property of selected customer. |
| Tax rate.  | If there was no tax created in the CRM System, you can make following actions. Click the Lookup at the end of the line. A Search window pops up. It is searching for several tax rates within the system. Click New to open a new window where you should enter Name and the Tax Rate in percent. Then click Save and close this form. The needed Tax is now chosen and you can accept this choice by clicking Ok. The Tax will be automatically added to the sum of the service positions and to the total sum of the invoice. |
| Invoice type |  allows selecting one of suggested types from a dropdown list. |
| Booking Start & End Date  |  copies values from From and To fields correspondingly. |
After invoice is saved it will be displayed in Invoice View and user can add positions to it.
Time Records
Time Records for invoicing are being shown in a project tree view. This project tree shows only the approved bookings of the project resources. Default period is always a current month. To see all projects just open up all ones, which you need. You will see the project resources that have upper-booked projects. Below you see all approved bookings of each project resource.
Adding Invoicing Positions
Invoicing Positions user can add using the menu above Invoice View:
Create and Delete Service item
Create and Delete Clearing item
Create and Delete invoice discount item All items have such properties as:
Name
Date
Display in Report Checkbox
Type
matchs a project type
Amount 
calculates automatically for Service Item type and is editable for Clearing Items and Discount Items.
Discount 
is editable for Clearing and Service items and read-only for Discount Items.
Tax Rate 
is predefined with the value that is assigned to current invoice, but can be changed for every position.
After positions are added, you should add approved bookings and expenses to the invoice using drag & drop function from Project View.
Click Save every time you want to apply your updates to invoicing application and use Refresh to display applied updates.
Complete an Invoice
After positions are added and saved, you can set one of the available statuses to an invoice using State menu.
To complete the invoice, go back to the invoice form by clicking Name. Click Run Report. Choose the proRM Basic Invoice Dialog. Now you will see a listing. Now you can save the invoice in different formats or directly print it.
Mark Invoice as Paid or Canceled
If customer paid the invoice you can also mark the invoice as paid using the dropdown list of State button. If you have to cancel the invoice just click Cancel Invoice button and the system will create a related record with the same name, but with negative values. This record will be linked to the original invoice, so that user will be able to trace negative invoice in details of original invoice. All bookings and expenses being contained in can be rolled back to unapproved status.
General Questions
What Does the Red Bar Mean?
The Red Bar shows user that there are bookings, billing positions, expenses that are not approved as well as not yet assigned expenses. To approve a billing position or a booking, user should click on the element he/she wants to approve and click on related entries. Now proRM Approval Manager App opens and he/she can assign or approve the expenses.
No Bookings Are Shown
There are several reasons: 
bookings were not approved;
there are bookings that are not billable;
no bookings have been created in the selected period.
No Services Are Shown
If you add the approved bookings while creating an invoice by clicking the button Booked Times, go back to the general area of the invoice. Now you can add a tax. When you click Recalculate, all amounts are calculated and appear on the invoice. For example,
Create a new invoice ->
Open the invoicing ->
Choose the bookings that you want to import into the invoice ->
Approve eventually not yet approved bookings ->
Choose the tax and the type ->
Create the invoice
Full Screen Mode and New Tab
To activate the Full Screen Mode click the icon Full Screen with the arrows outward, which is located next to Help icon in the right corner of the application.
To open proRM Invoicing Manager App in a new Tab click on the icon Open in new tab with a diagonal arrow, which is located next to Help and Full Screen icons in the right corner of the application.
Please be careful: When you open the application in a New Tab, it loads a blank page of the application without early selected data. When you open the application in a Full Screen, it opens with early selected data.