What is Prometheus?
Prometheus is our new Time Tracking-App for Windows 8. This App was specially developed for Windows 8 and is integrated to the new Microsoft operating System without any problems. You are able to download Prometheus directly from the Windows 8 Store and start time recording. The intuitiv handling is constituted by the simple and clearly user interface.
What can I do with this App?
With this App you can maintain your acitivty records. Also you have die possibility to proof the Status and the Progress of your Projects. Prometheus supports any type of CRM, whether OnPremise, Online (Cloud) or IFD.
How to connect Prometheus to my CRM System?
At the first Start of the App there will be a Pop up where you are able to choose the Typ of your CRM. Afterwards you specify the domain and logon data. Finally the CRM-Adress is needed and now you have to connect by clicking the small arrow on the right side of the textboxes. After loading your Projects you will be able to book Times.
Here are the same Data as with the Windows 7 Phone App.
If you want to change your filled in data, there is the extra Option to open the Connecting-Settings at the Settings. Here you have to go with your mouse to the right upper corner. Now appears the Windows 8 Menu and you open the "Settings". There you will find the "Connection-Settings" where you will be able to change your data.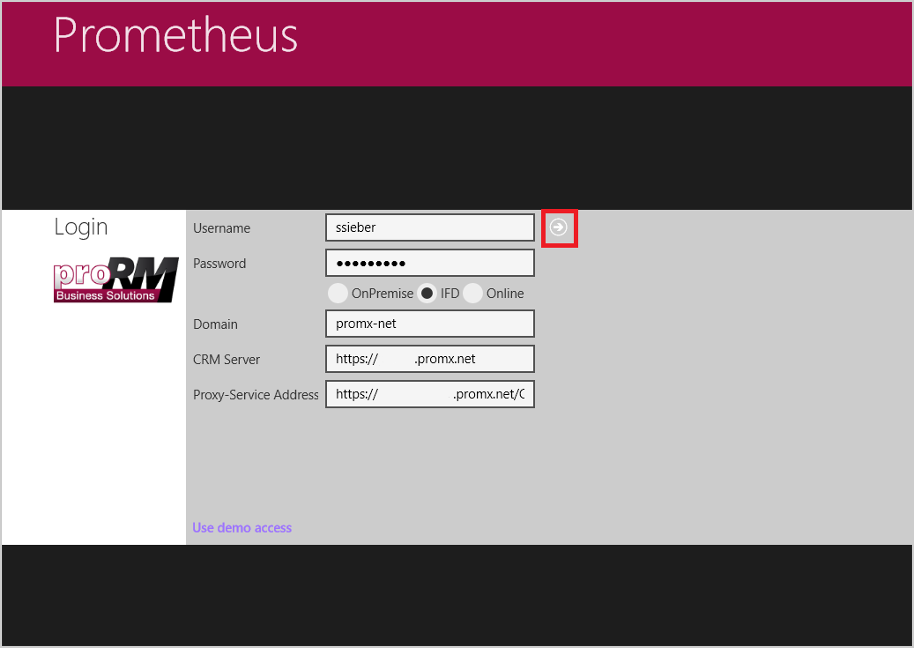 After clicking at the white arrow your Connection will be tested and you will be transfer to the Project Overview.
How to book Activity Records?
After connecting with your CRM you will be able to book activity records. Prometheus charges your personal Projects at the start. Through choosing a Project by mouseclick you will redirected to the booking mask. Now specify all the necessary data, and press "Save". The activity record is now stored in your CRM system.
Connect Prometheus with Windows 8 UI
Also you are able to advertise individual Projects at your Windows 8 Modern UI. On this you have to choose one Project by right-click on your mouse and then select the Option "Pin to Start". After that you will see a new tile at your starting surface which will you Transfer immediately to the booking mask.