What is the Windows Phone App?
Using the Windows 7 phone app, you are able to get informations from your projects, and create activity records at any time. To do this you only need to go to the Windows phone Store and search in the applications + games section for proRM. Or simply follow this link proRM for Windows 7 phone.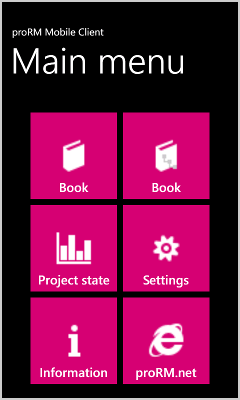 What can I do with this App?
With this app, you can maintain your activity records. If you are registered as a project manager, you can obtain the status of your project at any given time. The Windows 7 phone app supports any CRM 2011 System. Whether OnPermise, IFD, or Online.
How to connect to my CRM System?
In order to use the full range of the app, go to "Settings". There you select first the type of your CRM . Then, you specify the domain and logon data. Finally the CRM address is needed, and you can record your activites!
How to book Activity Records?
To create an activity record, there are two ways:
on the one hand, you can go directly to "Book", this is the first button in the navigation menu. In this view all available projects are displayed on which you can book activity records.
The second option is to choose the second button 'Book'. There all companies are shown, when you select a company, all youre projects of this company are displayed (project tree).

To create an activity record, select a project. The form to create a booking opens.

Specify all the necessary data, and press "Save". The activity record is now stored in your CRM system.