Resource Management
In the Personnel Management Tab, all Resources and working time models can be managed. To structure the Resources, they can be grouped into working teams.
Resource
To create a Resource go to Projecte & Resources and click Resources. Now click New. A window opens and you can insert all needed data. You also may insert the CRM User of your new Resource. Now click save and the Resource is saved. Note that the fields with stars are required informations.
A resource in proRM is linked to a CRM user and is also a resource for projects.
Detailed Resource Informations
After the Resource is saved, you can insert more detailed data about your Resource. In the section Details you can insert a Personel Number, an Resource type and a Supervisor, if one exists.
Internal Cost rate
Every Resource can be assigned to an internal cost rate. These cost rates can later be used for project evaluations.
How do I assign a Internal Cost Rate to a Resource?
To assign an Internal Cost Rate to a Resource, open your Resource and go to Internal Cost Rate.
Now go to Add New Internal Cost Rate.
Now you can enter all the required data in the form. The Name of the resource and the Currency are already preset.
Working Time Model
There are different working time models which can be assigned to one Resource. It is thus possible to show whether a Resource works full-time, part-time or only certain days per week. According to these working time models, the planned workload for the Resource can later be depicted and evaluated in the resource management process and used for the project planning phase.

Weekly Working Time Model
Daily Working Time Model
How do I create a Working Time Model?
To add a Working Time Model to a Resource, open the Resource and go to Working Time Models in the navigation bar. Click Add New Working Time Model. Here you can fill in standard weekly Hours if your Resource works for example 40 hours a week. You can also fill in the annual Vacation days for your Resource. If your Resource works part time, you can fill in working hours individually. Just choose in the Calculation Field Daily. Now you can fill each day differently. Press Save to save the Working Time Model.
If there are some changes in the Working Time Model of your employee, just create a new one and fill in the Startdate. From the Start date of the new Working Time Model, the changes are active.
Resource Skills
Under Resource Skills you can assign skills to your Resource. This is important if you want to use the Skills Management Module. You can name the Skills and Skill Category by yourself and also you can easily create new categories and skills as well.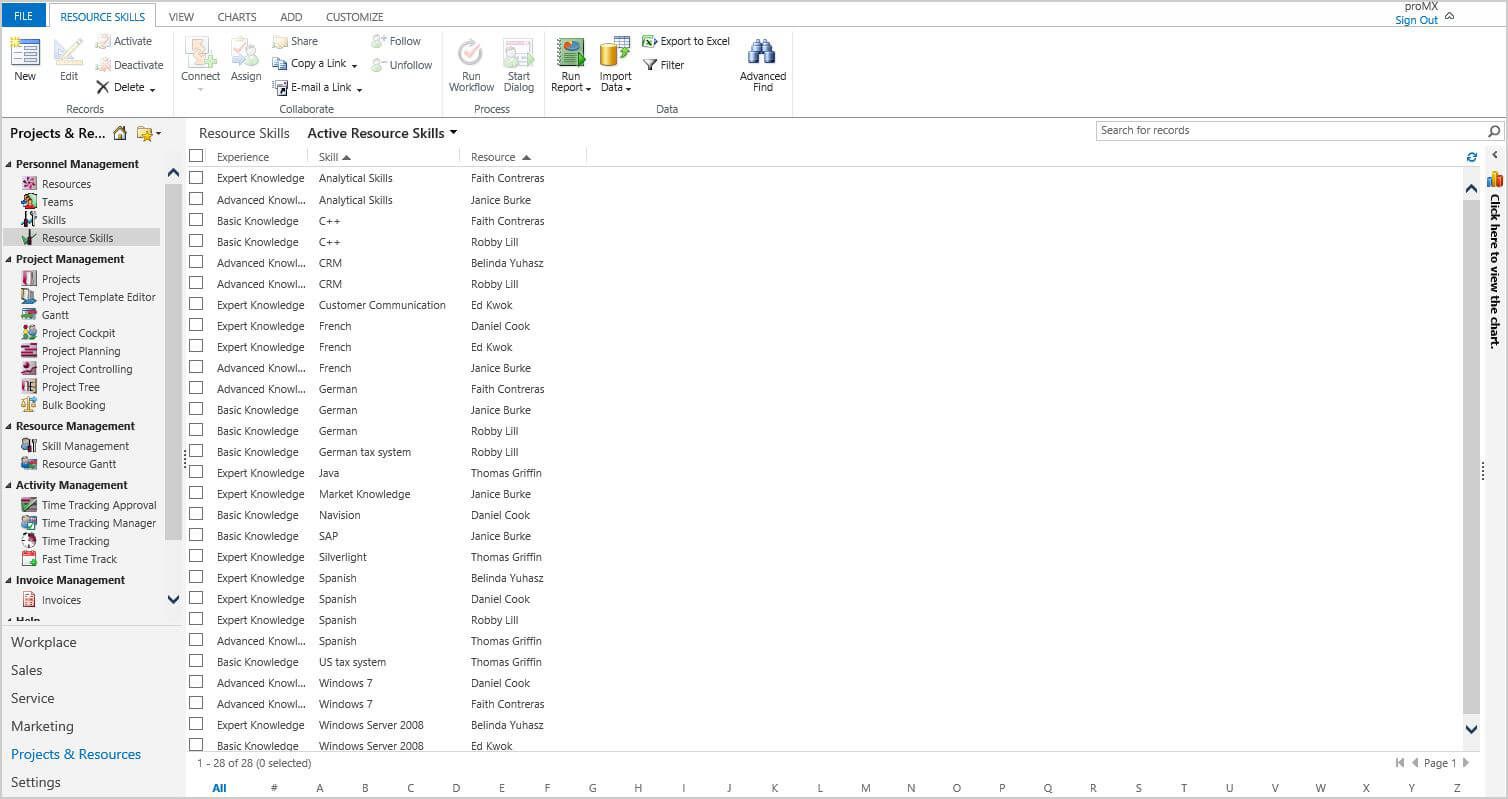 Overview about all created Resource Skills
a new Resource Skill
How do I assign Skills to my Resources?
To add a Skill to a Resource, open the Resource and go to Resource Skills in the navigation bar. Click Add New Empoyee Skills. Fill in all Data and press Save. Now your Resource has a new skill.
Teams
In proRM, it is possible to group Resources into teams. This makes it possible to either look at the team as a whole or single Resources during the planning phase.
Teams can be assigned to a teamleader and a represenative. Internal structured can thus be shown as well.