Timetracking Client
The time tracking functionality can be accessed via the CRM task bar and can also be shown in the user´s workplace Time bookings are only possible if the signed in user was assigned to an active project since every user is only able to view his assigned projects.
Time tracking Screen-Main dialogue
| Field name: | Description: |
| --- | --- |
| Booking | Via this button users can create a new booking for the project  |
| Customer | Here the customer account for the project is specified  |
| Project Number | This shows the project number |
| Project Name | This shows the project name |
| Deadline | The end date of the project |
| Estimated Hours[h.] | The effort which has been estimated for the employee  |
| Employee Effort [h.] | The effort which has already been booked by the employee  |
| Estimate to Complete [h.] | The estimated time for the employee to complete his task |
| Completed [%] | According to the estimate to complete the process of the project for the employee is shown (in percent) |
| Attainability | Here it can be seen with respect to the employee effort and estimate to complete if the project is running according to plan or is in the escalation phase |
| Date | The current date is automatically set. If the employee would like to do his booking for another day, the date can be set manually. |
| Refresh | After the date is changed, click the refresh button to update the project list |
Input Mask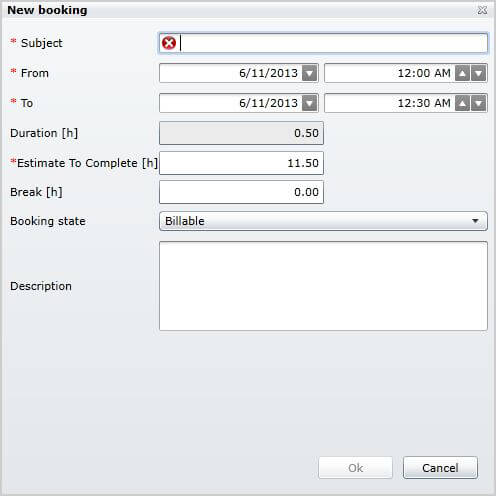 | Field name | Descripton: |
| --- | --- |
| Subject | This field describes the Task |
| From | Start of the booking |
| To | End of the booking |
| Duration [H.] | The duration is measured automatically according to start and end time including breaks |
| Estimate to complete[h.] | This defines the expected effort until the completion of the Task  |
| Break [h.] | A break can be typed in here as a decimal if applicable  |
| Booking State | Can be selected according to the defined booking types of the project |
| Description | Here the task can be defined in a more detailed manner |
| Save | The booking is closed and the entry is saved  |
| Cancel | The entry is cancelled and the input mask closes  |
Booking Time
To make a time booking go to the project line and click on the red symbol at the beginning. Now a window opens and you can book time to your choosen project.
Change the Date
To change the date of you booking, you can modify the date in the overview under "Date". You can also change the date in the booking window.
Full Screen Mode and New Tab
To activate the full screen mode click the icon Full Screen with the arrows outward. It is located in close proximity to the help button. Right beside it there is another Symbol with a diagonal arrow. This Icon will open the Fast Time Tracking in a new Tab.
Be Careful: When you open the app in a new tab, it loads a blank Module, without the projects that you selected earlier. For the full screen mode, this isn't the case